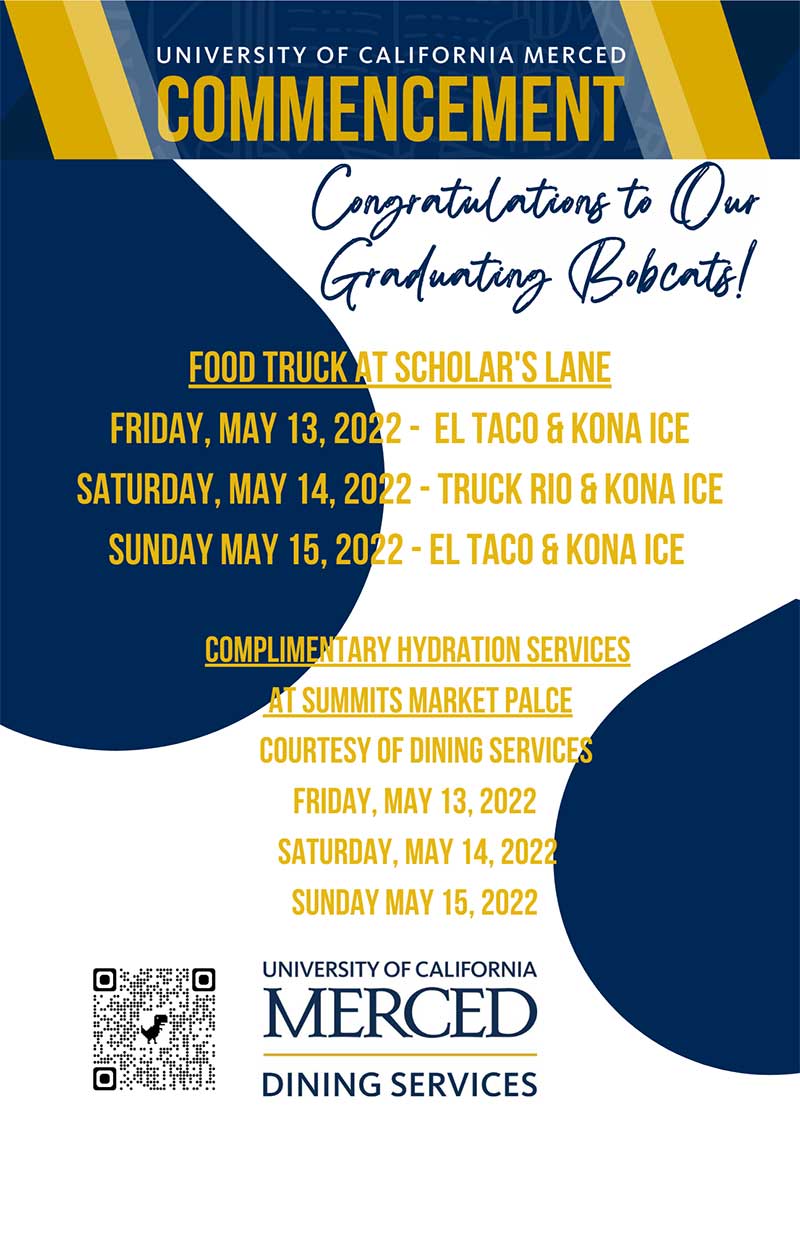 Food trucks are back! UC Merced will regularly welcome food trucks from around the region to campus to add additional variety to our dining options. These delicious offerings come in a wide range of flavors, from hearty wraps to Asian fusion cuisine to delicious ice cream.
Food trucks are located on Scholars Lane in front of the Yablokoff Wallace Dining Center. Food trucks accept credit and debit cards, cash and Cat Dollars. Food trucks do not accept meal plan card swipes.
Operating hours:
Food trucks are scheduled to be on campus 11 a.m. to 6 p.m. Monday through Friday. Night service is available from 6-11 p.m. select days.
Please click here for dining center hours.
Food truck schedule for the week of MAY 2, 2022:
| Monday | Tuesday | Wednesday | Thursday | Friday |
| --- | --- | --- | --- | --- |
| Teppenyaki2go | Real Philly | Real Philly | Teppenyaki2go | Real Philly |
| Hefty Gyro | Dragon Chinese | Hefty Gyro | Real Philly | El Taco |
| El Taco | Halal Indian Platters | Dragon Chinese | Truck Rio  | Truck Rio |
|   | Kona Ice | Kona Ice | Kona Ice | Kona Ice |
| El Taco (Late Night) | El Taco (Late Night) | El Taco (Late Night) | El Taco  (Late Night) | El Taco (Late Night) |
Food truck schedule for the week of MAY 9, 2022:
| Monday | Tuesday | Wednesday | Thursday | Friday |
| --- | --- | --- | --- | --- |
| El Taco | Real Philly | El Taco | Truck Rio | CLOSED |
| Hefty Gyro | Halal Indian Platters | CLOSED | CLOSED | CLOSED |
| El Taco (Late Night) | El Taco (Late Night) | El Taco (Late Night) | CLOSED | CLOSED |