Common Grounds
Located inside the Pavilion Dining Center, Common Grounds offers coffee and other beverages, pastries, cakes, candy, chips and other snacks. Common Grounds also iuncludes a tea bar, as well as specially themed events that bring exciting new flavors to the convenient retail location. Whether it's an Alice in Wonderland Mad Hatter tea party or Harry Potter-themed cakes and specialty drinks, you're sure to find something interesting at Common Grounds.
Please use the southernmost entrance of the Pavilion to reach Common Grounds. Credit and debit cards, as well as Cat Dollars will be accepted. Cash is not being accepted at this time. Face coverings are required. Please maintain at least six feet of distance between other customers and staff.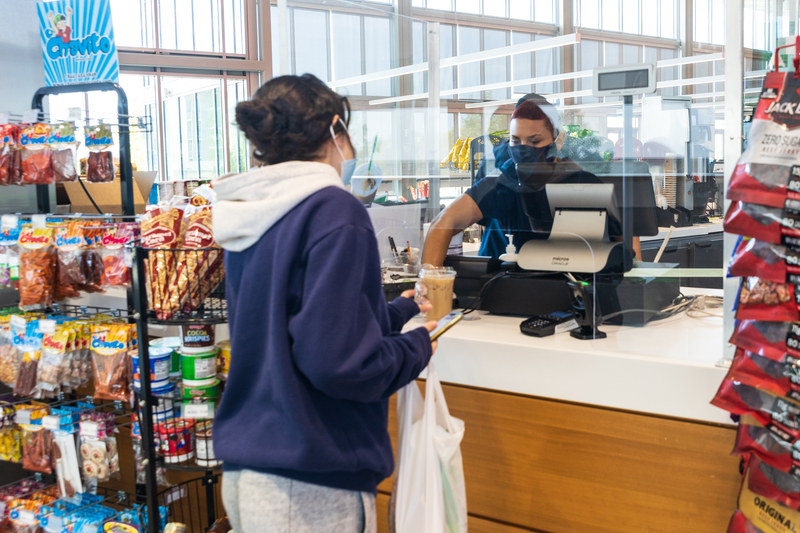 Hours of Operation:
Common Grounds will close for the summer at 4 p.m. Friday, June 11. Expanded retail options are expected on campus this fall. More information on these options will be posted on http://dining.ucmerced.edu.
Pavilion Dining Center remains open for breakfast and lunch. Yablokoff Wallace Dining Center (YWDC) is now open for dinner service. For Pavilion and YWDC hours, please click here.
Common Grounds will be open from 10 a.m. to 4 p.m. Monday, June 7 through Friday, June 11. Please stop by for a snack or a delicious drink and wish our team a happy summer. See you soon!
Click below to explore hours and menus at the Pavilion: